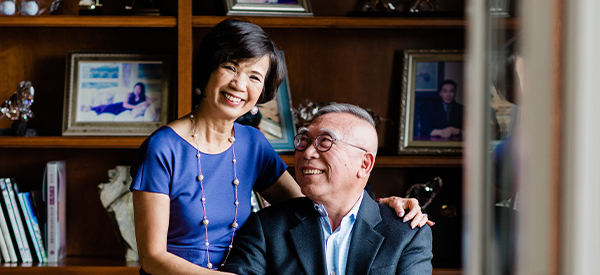 Changing the story in lung cancer research
More than 3,700 people in our province are diagnosed with lung cancer each year. Thanks to Donald and Julia Leung, the future is now brighter for people impacted by the disease.

Learn how a recent $1.5 million gift from the Leungs will help transform lung cancer research and care at BC Cancer, using state-of-the-art equipment.



The future of gastrointestinal research

Did you know colorectal cancer is the most common cancer to affect both men and women in B.C.?

March is colorectal cancer awareness month and the BC Cancer Foundation is pleased to welcome Dr. Jonathan Loree, medical oncologist at BC Cancer, to our blog this month.

Dr. Loree will share the latest in his work in gastrointestinal cancers and his vision for future therapies for patients.

Dedicated to inspiring change

"Through the pain of a rapidly growing tumour she fought and lived for months longer than any doctor expected. She was a fighter, so I am going to do everything I can to continue that fight."

Bianca shares how losing her sister inspired her to help others facing ovarian cancer.

Learn how the OVCARE (Ovarian Cancer Research) team at BC Cancer is working to reduce the incidence of ovarian cancer by 50 per cent in the next 15 years.
Break a sweat for cancer care

Whether you walk, run, skip or dance, challenge yourself to move every day this May with Workout to Conquer Cancer presented by RYU Apparel.

You can create a team to take on the challenge together while you break a sweat and help improve cancer care in the community!

Improving colorectal cancer outcomes

Read about the critical research Dr. Aly Karsan, medical director, Centre for Clinical Genomics, Michael Smith Genome Sciences Centre, BC Cancer, and his team are working on to improve survival rates for colorectal cancer.

BC Cancer is hosting a Colorectal Cancer Education Day on March 23 – learn more here.

Read more.
Raising a glass to success

Cheers to nearly 230 booze losers across the province who gave up alcohol throughout February and raised an amazing $70,000 for innovative cancer research at BC Cancer.

Over the past five years, Lose the Booze has raised $310,000 to help ensure people impacted by cancer across B.C. have access to the latest in care.

Managing side effects

Many people struggle with memory and attention problems related to cancer treatment side effects. On March 14, BC Cancer will host "Memory, Attention & Adaptation Training" focused on self-monitoring and stress management strategies to better manage these symptoms.

Pre-registration is required.

Read more.