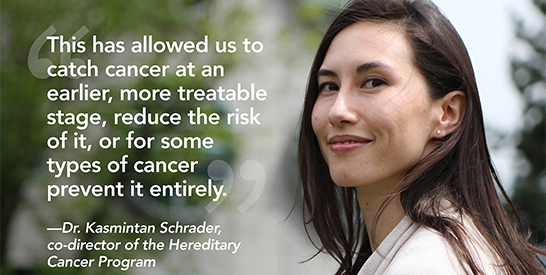 Novel program tests for genetic link to deadly cancer
A new program piloted by BC Cancer can detect if you're genetically predisposed to be at risk for developing one of the deadliest cancers known today.

The Familial Pancreatic Cancer Program was established this past year thanks in part to generous support from the Glotman-Simpson Cypress Challenge. The goal is to empower families facing pancreatic cancer to take charge of their futures, says Dr. Kasmintan Schrader, program lead.

For the Heppell family, who have lost several family members to pancreatic cancer, the need for programs such as FPCP cannot be understated.

"The more we know about this cancer, including whether we are genetically predisposed to it, will help researchers and clinicians discover better treatments."

This 2017 Cypress Challenge - the largest fundraiser for pancreatic cancer research in Canada - will take place this Sunday, on Aug. 13 in memory of Gary Heppell.



Supporting spiritual care at BC Cancer

A comprehensive and sustainable Spiritual Care program will soon be established at BC Cancer, thanks to generous support from our donors.

The project will improve BC Cancer's overall ability to respond to spiritual distress and existential suffering experienced by many patients facing cancer treatment, improving their outlook.


Dr. Marra: 'Now is the time'

Dr. Marco Marra, distinguished scientist and director of Canada's Michael Smith Genome Sciences Centre, describes the exciting future of cancer genomics in our latest Partners in Discovery magazine.

"I believe cancer genomics presents us with significant potential for discovery. Knowledge is power as we work to conquer cancer."

Ride announces all-BC route for 2018

In celebration of the 10th annual Ride to Conquer Cancer presented by Wheaton Precious Metals, we are excited to announce an all-B.C. route for 2018!

An all-BC route will celebrate community and welcome local partners as we look to the next 10 years in our effort to cure cancer.

Read more.

Trials for prostate cancer yield promise

We welcome Dr. Kim Chi, medical oncologist and director of clinical research at BC Cancer, to our blog for the month of August.

Dr. Chi will blog about his work advancing treatment for prostate cancer through a number of promising clinical trials currently underway at BC Cancer.

Read more.
Hope Couture goes to London

This year's elegant, London-themed luncheon and fashion show will raise funds for the prevention of ovarian cancer at BC Cancer.

Purchase your tickets today on our website.

Read more.

Share your story and empower our community

Every week on social media, we share an inspiring story of hope from those affected by cancer.

Share your story with us - email bccfinfo@bccancer.bc.ca or use the hashtag #FacesOfCancer.

Read more.