Team EJM - 9 Nuts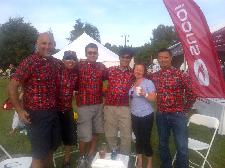 Fundraising Goal: $15,000.00
Total Number of Gifts: 2
Total Value of Gifts: $985.10
Please bookmark this page.
Recent Donors
Mr. Victor Corpuz
Blair Wallin

Full Donor List
In 2002 I was diagnosed with testicular cancer. Fortunately, I won the battle, but many of our loved ones are still struggling, or have lost the fight. Through my journey, I developed a strong personal obligation to continue to raise awareness and support for a cause that can truly make a difference. I can tell you that every dollar donated that goes into research, assistance and education will surely make this world a better place.
Team 9 Nuts has decided to not only participate in one cycling event, but four, and will be contributing to the BC Cancer Foundation directly, rather than having a third party involved. This method ensures that all of your monetary support will go towards the Foundation directly. We came up with the idea of requesting your help as a team sponsor or as a direct donor. As a team sponsor your company logo will be added to our team uniforms, this would be a $500 donation. These uniforms will not only be used for this year's rides, but rides in the future as well. It is through this small gesture that your love and support will be displayed on our team jerseys. Your help is greatly valued and we look forward to making your donation proud and displaying your sponsorship along our journeys.
---
If you think this page contains objectionable content, please inform the system administrator.