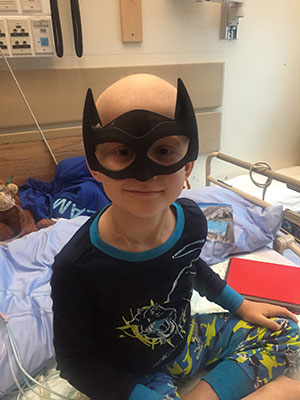 TARGET Pediatric AML
Join our effort to speed up a better prognosis for Pediatric Acute Myeloid Leukemia (AML).
Little has changed for children facing AML with treatment protocols remaining unchanged for the past 30 years. Despite 20% of leukemia diagnoses overall, AML now claims more lives than the rest of the leukemias combined.
The 'lucky kids' still endure the savage treatment protocol to achieve a lasting remission. And even those face significant side effects including a 25% chance of rapid onset heart failure within 35 years of treatment.
New research approach
The good news is that with recent scientific and technological advances, there is a new research approach offering real hope for pediatric AML. The Children's Oncology Group is the largest pediatric clinical trial organization in the world and it has determined that the Target pediatric AML project (TpAML) is the "highest potential and greatest need" AML research project of our time. The project is designed to advance AML treatments and survival.
Sequencing to uncover targets
The team is determined to fully sequence and analyze 1000 AML samples from past pediatric patients from around the world. This work can be done now. Genetic targets will be discovered, allowing targeted therapy to become a reality for AML. In just a few months since this project began, 1000 samples have been partially sequenced at BC Cancer. The NCI provided funding for the first 200 samples, and the remaining 800 were funded through generous donations totalling over $210,000 to BC Cancer Foundation. Preliminary analysis of the samples has already discovered over 8 potential new repurposed therapies for pediatric AML as drugs on the shelf ready for treatment, and over 6 targets have been identified. Thank you to everyone who has contributed to these discoveries.
TpAML has the potential to fast-track the discovery of targets, to connect these to existing therapies and improve treatment options within a few years compared to decades.
The need for funding
Initial results are truly promising, but there is still so much more to discover! We are now ready to complete the full sequencing of these 1000 samples to complete our total understanding of AML. The only thing holding back this important work is funding. This work is extremely complex, and $3 million is now desperately needed to help finish this project.

AML remains one of the poorest prognosis pediatric cancers, and is the deadliest across all ages. Because AML is often considered an 'adult cancer', funding for research on the pediatric side lags. We know that AML in young people differs significantly from AML in seniors, but most funding is focused on older adults. Our kids are falling through the cracks, but you can help fill the gap. Please make a donation today to support and help complete this important project.
View More