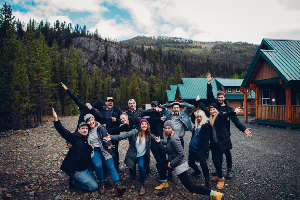 Noravera
This May, Noravera will be working out every day to raise awareness and fundraise for cancer research.
We have all been touched by cancer in some way and, as many of you may know, this year our very own Co-Founder, Geoff Livingston, fought cancer and kicked it's ass - so we're excited to support him as well as all the other cancer fighter's out there.
Welcome to our team page!
This May we'll be participating in Workout to Conquer Cancer presented by RYU Apparel, where we'll be challenging ourselves to get moving every day of the month while fundraising in support of critical cancer research and enhancements to care at BC Cancer. Whether we run, walk, bike or dance, every sweat we break and dollar we raise will be in support of the 77,000 people facing cancer across British Columbia.
Research is the foundation of advancements in cancer prevention, early detection and improved treatment options. B.C. is home to a world-class cancer research and care organization and with our efforts, Workout will enable major discoveries that will help revolutionize the way cancer is diagnosed and treated in the coming years.
Please consider making a donation to our team and help improve outcomes for the one in two British Columbians who will be diagnosed with cancer in their lifetime.
Interested in taking on the challenge? Join our team! We can Workout and fundraise together for this very important cause.
Thank you!
View More

Team Honor Roll
Doug & Lynn Henderson
$100
Top Donors
Doug & Lynn Henderson
Manny
Carrie
Val Chiykowski
Sarah