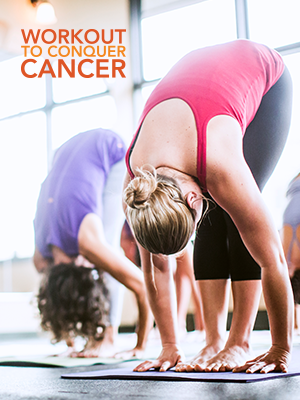 This May I'll be participating in Workout to Conquer Cancer presented by RYU Apparel, where I'll be joining hundreds of others across the province as we get moving every single day of the month in support of cancer research and enhancements to care at BC Cancer.
One in two British Columbians will be diagnosed with cancer in their lifetime. I've committed to break a sweat and fundraise to improve the outcome for people facing this disease across the province. With your support, we will make a significant contribution to the world-class research conducted by the clinicians and scientists at BC Cancer. Their work is providing exciting new evidence that is changing the way cancer is prevented, detected and treated.
So, as I lace up my runners, fill up my water bottle and get ready to sweat my way through May, please show your support by making a donation today.
Thank you!
View More
My Workouts
Return to the main discussion page
Work out logs
May 1st: Outside walk Distance: 5.04 km / Cal burned: 307. Time: 45min
May 2nd: 7.00 Km (treadmill sprint) + 1 hour gym workout. Cal burned: 788. Total time: 1h:35min
May 3rd: 30 min run (treadmill): m. / Cal burned: 512.
May 4th: 15 min HIT Cardio workout. 4 sets/5exercises. Burned Cal: N/A
1. 6 High Knees then 4 Lunge Jumps
2. 5 Narrow Press-Ups into 5 wide Press-Ups
3. 5 Toe Touches then 5 Full Body Crunches
4. 6 Mountain Climbers with lateral move
5. 4 Crab Toe Touches then 4 Kick Throughs
May 5th: 10km Seawall. Time: 44:01. Cal Burned: 641
May 6th: Gym workout (back/triceps. Cal Burned: 752
Time:1h:39min
May 7th: 8km Run seawall
Cal Burned: 522
Time: 34:06
May 8th: 18min Hill Run + 1h:05 minGym workout (Shoulders/Calfs)
Cal Burned: 692
Total time: 1h:24 min
FIRST WEEK's Totalizer: Time: 446 min 07 sec. Total Calories Burned: 4214.
May 9th: 3.71Km walk + 10 min Abs circuit (4 sets/3 exercises)
1. 4x10 Crunches
2. 4x10 Knee raises
3. 4x10 Mountain Climbers
Total time: 47 min. Total Cal: 278
May 10th: 10.16 KM run (seawall) + 1h:06 gym workout. Total calories: 1588
May 11: 30 min walk. Total Cal: 376.
May 12th: 52 min training routine (Chest/Biceps). Total Cal: 637.
May 13th: Cardio rest. Total Cal: 472 Time: 30 min
May 14th: Run HIT Total Cal: 479. Time 47 min
May 15th: Run Half Marathon 21.2km + 1H:11min workout
Total Cal: 2215. Total Time: 2h:55min
May 16th: Squash game. Time: 40 min + 35 min treadmill run. Total Cal: 464 Total Time: 1H:15min
May 17th: Walk/recovery day. Total Cal: 497. Time: 35min.
May 18th: 45 min HIT work out. Total Cal: 372
May 19th: 5km treadmill run. Time 22:29. Total Cal: 398

SENCOND WEEK COMPLETED. Totalizer:
Time: 579 min 29 sec. Total Calories Burned: 7776
May 20th: HIT elliptical training. Time: 22:44 sec. Total Cal: 206
May 21st: 9.12km Run (48:41sec) + 1h:52min weight workout. Total time: 160 min 22 sec. Total Cal 1477 Cal.
May 22nd: 12.02Km Run (1H:04min). + 1h:19 min workout. Total time: 143min. Total Cal: 1507.
May 23rd: Rest. Walk 12.16 min. Total cal: 51
May 24th: Weight workout. Time: 44:28min. Total Cal: 335
May 25th: Rest. Stretch + ABS routine. Total time: 25 min. Total Cal: 112
THIRD WEEK COMPLETED. Totalizer
Time: 407min 36 sec. Total Calories Burned: 3688.
May 26th: Rest. N/A
May 27th: 5K run. Time: 20:49sec (209 cal) + Gym workout.52:39sec (397)
Total time: 73min 46 sec. Total Cal: 606
May 28th: 11.23km Run. Time: 48:31sec. (844Cal) + 25 min weight workout (Cal: 186). Total time: 73:31sec. Cal: 1030
May 29th: HIT run training (2.12Km) Time: 11:23sec. Cal:150. + Calf/Abs routine: 28min. Cal: 149.
Total Time: 39:23sec. Calories: 299
May 30th: Run 8.36Km. Time: 36:06sec. Calories: 600. Weights routine: 69:30sec. Calories. 524. Elliptical training: 12:36sec. Calories: 118. Total Time: 112:20sec. Calories: 1242.
May 31st: Recovery day. 18 min Walk. Total Calories: 129.
4TH WEEK COMPLETED. Totalizer:
Total Time: 317 min. Total Cal. 3306.
MONTH TOTALIZER:
TOTAL ACTIVE TIME: 1750 Min 20 sec . > 29.5 hours.
TOTAL CALORIES BURNED: 18,984cal.
by Luis NietoSalvador on Sat, May 04, 2019 @ 1:17 AM

Permanent Link 3 Comments
Comment #3
Ese dia fueron 7.28km.
by Luis NietoSalvador on Mon, May 06, 2019 @ 4:50 AM

Permanent Link
Comment #2
This comment has been removed by a moderator
by Luis NietoSalvador on Mon, May 06, 2019 @ 4:35 AM

Permanent Link
Comment #1
cuantos km son 30 minutos?
by Alan Castaņeda on Sat, May 04, 2019 @ 10:20 AM

Permanent Link