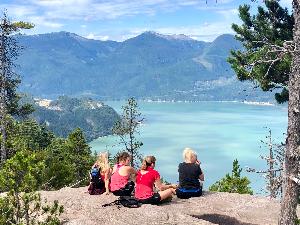 I'm participating in the Workout to Conquer Cancer! This event is an initiative for people to move, no matter where we are, every single day of the month, supporting health and the BC Cancer Foundation.
Sadly the BC Cancer Foundation has had to cancel the Ride to Conquer Cancer in 2020. However I'm so happy to have a great alternative in the Workout to Conquer Cancer.One in two British Columbians are affected by cancer. That's why I've committed to move and raise funds for patients, survivors and those we've lost. This challenge is more than exercise, it's about a community who believe we can make an impact, even from our homes.
I plan to cycle, run, hike, and plank for 31 consecutive days to raise funds for BCCF! So, as I get ready to sweat my way through May for every patient who cannot, please show your support by making a donation today.
Thank you!

Julie

View More
My Workouts
Return to the main discussion page
Week 4 - Complete
May 22 - Hike and workout
May 23 - Mountain Biking @ Whistler
May 24 - Trail Run
May 25 - Hike and workout
May 26 - Trail run
May 27 - Road Run and Golf
May 28 - Trail run
Planks and push-ups daily :)
thank you for all the donations and support!
by Julie Gilbert on Fri, May 29, 2020 @ 9:54 PM

Permanent Link No Comments