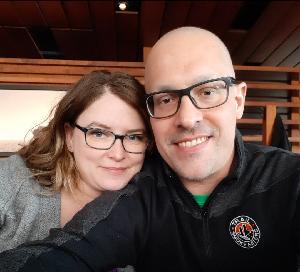 Last year was an extremely difficult one for me and my family, as I battled testicular cancer and a laundry list of complications. All told I faced 17 weeks in hospital, 2 surgeries, a blood clot in my leg, a brain infection and tandem bone marrow transplants. I needed to walk with a cane for 7 months. I lost 30 pounds and every bit of muscle I had (which wasn't much to begin with).
A full year of my life went up in smoke, leaving my body an absolute wreck. But with the new decade came the start of a new chapter. To help turn that page I've decided to participate in the 2020 Workout to Conquer Cancer, in which I pledge to be active every day during the month of May for at least 30 minutes.
Why am I doing it? For a number of reasons.
First off, my body took a real beating and I have a lot of work to do just to get back to square one. But I don't want to stop there. I told myself during the dark days of treatment that I would use this tear-down as an opportunity to rebuild myself into the strongest, healthiest version of me. We started calling it "Paulie 2.0". WE EVEN HAD T-SHIRTS!
Secondly, I feel a strong need to give back to the people who saved my life - the nurses, doctors, researchers, technicians and support staff who devote their lives to saving ours. While COVID-19 is affecting everyone's lives in different ways, the team at BC Cancer is suffering a huge loss of fundraising initiatives this year. Most of their major fundraisers are public events, so they won't be receiving funds from the likes of the Ride to Conquer Cancer. They deserve our help every year, but never more so than right now.
Finally, and most importantly, I want to honour the family and friends who stood by my side, and in many ways suffered right alongside me. The outpouring of support was humbling. I owe it to all of you to keep battling. To not just survive, but to thrive.
So here we go! Time to compete. Time to rebuild. Time for Paulie 2.0! If you're able, please give me a push with a donation of any amount. Thank you and stay healthy!
View More