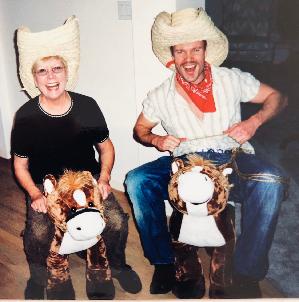 Last May (2019) I lost my mother to Cancer. She had survived cancer twice in her lifetime before but unfortunately the third time it was too aggressive for her to overcome. So this May in honor of her and all those affected by cancer, I'm participating in Workout to Conquer Cancer and to support BC Cancer patients! I'm joining others across the province to move, no matter where we are, every single day of the month.
One in two British Columbians are affected by cancer. That's why I've committed to move and raise funds for patients, survivors and those we've lost. This challenge is more than exercise, it's about a community who believe we can make an impact, even from our homes.
So, as I get ready to sweat my way through May for every patient who cannot, please show your support by making a donation today.
Thank you!
View More
My Workouts
Return to the main discussion page
Workouts day 6-9
Day 6
Weightlifting and Burpees
Day 7
40 minute run with weighted vest. My Daughter joined me on her scooter.
Day 8
Weightlifting
Day 9
HIIT workout in my Backyard and alley. Intervals of Airdyne, ring rows, dumbells, kettlebells, sit ups and running.
by Phil Gaudin on Sun, May 10, 2020 @ 2:11 PM

Permanent Link No Comments