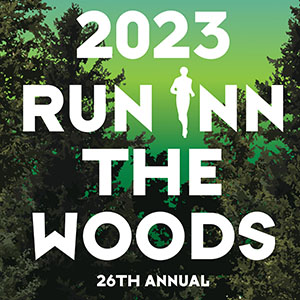 On Sunday, December 3 join us again in person to celebrate the 26th Annual Run Inn the Woods! Participants are invited to return for a 3KM walk or an 8KM run through Pacific Spirit Park, followed by breakfast and refreshments at Southlands Elementary School.
Start & Finish for 3KM Walk or 8KM Run
Location:
Southlands Elementary School
5351 Camosun St.
Vancouver, BC
Please sign and return the waiver included in the brochure. You can also use the included offline donation form to make donations by cash or cheque.
The Story
This year marks a big milestone with the 26th Anniversary for Run Inn the Woods! After a year's break due to COVID restrictions and followed by trail closures last year due to storms, we are happy to announce that our annual fundraising event for the BC Cancer Foundation is back!
By now many of you are familiar with the story. Run Inn the Woods started as a memorial run for our good friend Barry Allcock who passed away in 1997 after a long battle with cancer. Barry loved to run but more importantly he loved to run while in the company of good friends. It is in this spirit that we remember and celebrate with Run Inn the Woods.
Over the years the Run Inn has lost a few other friends to cancer. Friends who shared the same spirit as Barry. With fond memories we remember Carrie Beaman (2002), Mike Holyk (2012), Scott Jackson (2015), Devi Ralla (2017) and Jane Kirkham (2019).
Since its inaugural run in 1998, Run Inn the Woods has raised over $228,000 in donations. It is the longest running, independently managed, community based fundraising event for the BC Cancer Foundation.
We invite you to come out and and share in the spirit of running with family and friends.
For more information about the Run Inn, visit:
Our Website
Our Brochure
Our Facebook Page
About the BC Cancer Foundation
Donate:
Find a Participant or Team:
Fundraising Goal: $50,000