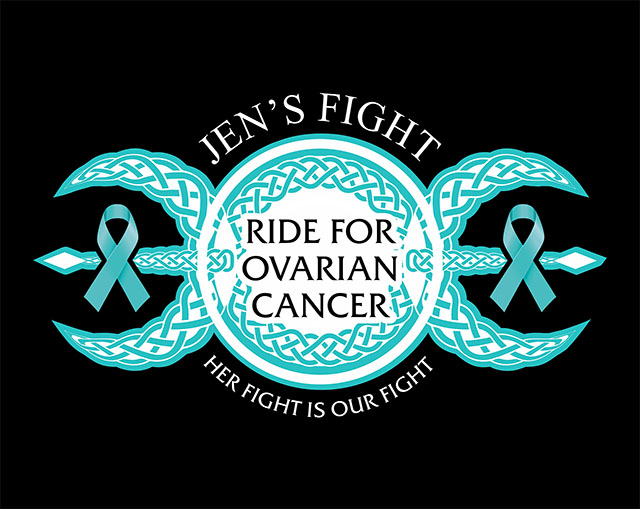 Event name, date & location:
Jen's Fight First Annual Ride for Ovarian Cancer
August 19, 2023
Commonwell Exhibition Building,
354 Angeline Street South,
Lindsay, ON K9V 4R2
This year's Dirt Squirrel Jamboree will kick off on August 19 with our first ever Jen's Fight Ride for Ovarian Cancer at the Commonwell Exhibition Building.
Jen's Fight will raise money for the research of a rare, but life-threatening strain of Ovarian Cancer called Low-grade serous (LGS) Ovarian Cancer.
Prizes will be awarded for top fundraisers - so get out there and spread the word!
Onsite Preregistration will start at 9am on August 19th, KSU at 11am, heading out on a planned ride through the beautiful Kawartha Region and commence back on site for 2pm and just in time for the festivities.
Sponsorship opportunities and all enquiries for this ride can be forwarded to events@thefallenriders.com or by calling 905-442-2045.
Fallen Riders' Event Manager, Leona, started this event in support of her sister-in-law, Jennifer Davies. Jen was diagnosed late last summer with Stage 3 Ovarian Cancer and under the age of 50.
Symptoms are almost unrecognizable and thinking she was pretty young and healthy ended up in an emergency room and they discovered that she had Ovarian Cancer and that it had spread, was incurable and that she had a short life span left. Chemo was suggested and there was a minimal chance of this working and was told it will always most likely come back. Every case is different.
Instead of dwelling on her issues, Jen rallied and is working to educate others on the lack of funding and research for low-grade serious ovarian cancer. Leona's goal is to fight along with her Sister-In-Law and raise money for the research of this form Cancer.
Donate:
Find a Participant or Team:
Participate:
Fundraising Goal: $20,000