XIOMARA, the Brightest Star, Races to Paradise for Cancer Research!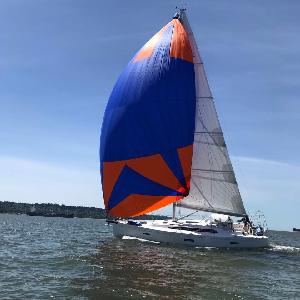 Xiomara: the Brightest Star Battles to Win!
Who hasn't dreamed of racing a magnificent sailing yacht through warm winds to palm treed beaches on tropical islands?!

The crew of yacht XIOMARA are very excited to be on their inaugral trip in this year's sailing race to paradise, and we are also driven to race across an ocean with plans to raise money for cancer research, funds that researchers use to develop clinical trials that give us so much strength to fight this incidious disease.

We would love you to cheer on yacht XIOMARA and her crew as we battle to win - as with you alongside, it will ensure we attain our goal to leave cancer with no place in any race! We depart Victoria on Monday, July 4th at 10:00 am, with "destination: Lahaina, Hawaii"!

You may help the prodigious cancer researchers who dedicate their lives to keep cancer from beating any of us, by donating - in the name of a loved one, or a cancer that has affected your life - and know that all the monies raised go directly to the BC Cancer Foundation which then provides funds for amazing clinical trials - part of the cutting-edge research aimed at identifying life-extending and life-saving patient treatment, and improving quality of life for those living with and after cancer.

For example: when an aggressive and rare form of ovarian cancer returns and multiple tumours deem it inoperable, an innovative, dual-drug, clinical trial shows how cancer research discoveries can reduce and even eliminate cancerous tumours!
The science alongside us in turn fosters a gratefulness for every day, and we want to help ensure others can benefit from cancer research- as there may be a clinical trial that will allow a cancer patient you know an extension on life.

While you are cheering on XIOMARA's progress, please donate to this fundraising site: as every cent raised goes directly to BC Cancer Foundation and to the dedicated, unwavering cancer researchers whose work gives life to those battling to win!

When we join together, we can win this battle….WE WILL BEAT CANCER!!!
View More
Fundraising Honor Roll
SHC Pulmonary Clinic RTs and Nurses
Kristin Fraser and Jonathan Rose
Richard Leigh and Margaret Kelly