Sobriety Walk for Cancer Research - Fundraising Goal: $100,000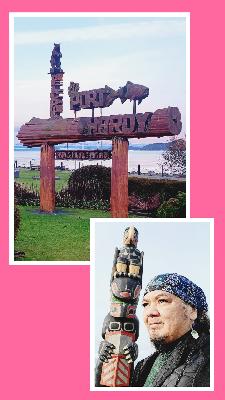 Gilakasla:
Nugwa'um Nanamugwitsalas, Kwnuxs Healgalis, gayutlunts Muskimakw-Dzawadinux. Kwanuxs Yekugwaga, Gaytlunts Sagasgamakw'Gugasakw.
My Name is Thomas James Charles Wamiss Sr. Dad, Spruce Wamiss from Kingcome Inlet and mom Hazel (Clair) Wamiss from Quatsino.
I am in the process of writing a book called "My Story". The intention is to put the book out in a way that the ones who want to read it, hear it and/or see me reading it, will have to subscribe to Podcasts or a YouTube channel. It is a book that will describe all the impacts of my life, from experiences with many loved ones, both family, and friends that have become family.
My dad, Spruce, and my mom, Hazel, were enthusiastically involved with a majority of community events by taking the responsibilities of feeding the people. Being the youngest of seven, I had many role models who guided me through life in a very abundantly happy home and community.
Along with these amazing role models, we all had our bad times of sorrow, pain, frustration, embarrassment, insecurity, anger and defeat. I am of the first generation that has NOT gone to residential school. All of this leading, of course, to my addiction to drinking on the reserve, which of course followed me to my adulthood.
"My Story" will be laid out in a way that not only describes how I started my drinking addiction and how it progressively worsened, but leading to that first day, September 15, 2020, when I stepped out of my comfort zone, and started allowing myself to heal in mind, spirit and body. Ever since I decided it was enough and I stepped into my potential, I have been successfully utilizing social media, Facebook, as my tool to encourage others to do the same. By putting the message of, "If You Change Your Mind, You Can Change Your Life", being an example that it CAN be done, not just with the steps of quitting my addiction to drinking, but by my 49th birthday, I also kicked testosterone's ass and lost 40+ lbs in less than 4 months.
With the weight loss and training that was involved, I took it upon myself to take it even further. As with the recent family loss, my second brother, to cancer, I dedicated myself to doing a walk to bring awareness and help battle this terrible disease, by completing a walk from Port Hardy to Victoria, one end of Vancouver Island to the other.
During this walk I will be delivering the message of sobriety along the way in interviews with local communities and social media. The message will be in our traditional tongue (Kwakwalla) and in English. I feel this walk has so much potential of getting quite recognized as it is the first time anyone from the immediate community of Port Hardy and Vancouver Island at large, has done a contribution such as this.
With writing the book, learning the language, the way I will be delivering the message of sobriety, completing this walk for cancer, all these will lead me to the bigger goal, which is to become a motivational speaker with a twist of speaking in our traditional language, with hopes of encouraging others to learn theirs. In recent conversations, I've also had opportunities and offers of translating in other languages, and the book isn't even done as of yet.
Thank you for taking the time to read about my initiative, and considering a donation to research and care at BC Cancer.
To donate, click the red 'Donate Now' button on this page.
For sponsorship opportunities, please email me directly: wamisst@gmail.com
Gilakasla; Mayaxalla
Nanamugwitsalas
Thank you; Respectfully I remain;
Thomas Wamiss Sr.
View More
Fundraising Honor Roll
Robron Equinox Students - Campbell River
Tillicum Lelum Aboriginal Society