The Year My Mother Came Back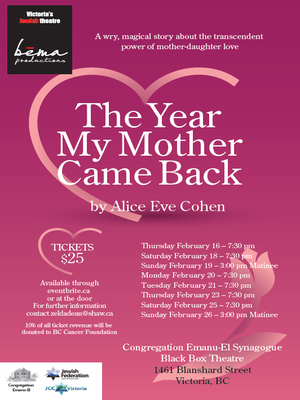 Welcome to the official fundraising page of The Year My Mother Came Back, by Bema Productions.
10% of all ticket sales will be donated in support of BC Cancer Foundation.
About the Play
Thirty years after her death, Alice's mother appears to her and continues to do so, during the hardest year Alice has had to face. A love story. A ghost story. This play will speak to anybody who has ever loved their mother, struggled with their mother, lost their mother, or dreamt of reconciling with their mother. Adapted from Cohen's acclaimed memoir, The Year My Mother Came Back.
"A wry, magical memoir about the transcendent power of mother-daughter love." — Elle Magazine
"Fiercely brave and unflinchingly honest, Alice Eve Cohen takes the reader on an astonishing journey." — The Brooklyn Rail
"Alice Eve Cohen has an almost magical touch in the way she introduces her audience to a character… arriving at a place a lot like where everything started…only much better." — Buffalo News
Tickets available at https://www.eventbrite.ca/e/the-year-my-mother-came-back-a-magical-and-loving-ghost-story-tickets-502145850757
For more information, contact zeldadean@shaw.ca
BC Cancer Foundation
We are the fundraising partner of BC Cancer. Our purpose is to be a catalyst, powering world class innovation while supporting deeply personal cancer journeys.
Every dollar we raise advances care across BC Cancer's six world-class centers and research programs.
Our donors fuel hope for the 80,000 patients per year who depend on BC Cancer.
Home to some of the world's top ranked scientific minds, BC Cancer is a place where remarkable advancements happen. We…
Developed an advanced form of radiation therapy now used world-wide
Discovered and deployed the first effective prevention strategy for ovarian cancer
Were the first cancer centre to effectively treat a patient based on DNA of their cancer
Proved cancer evolves over time and in response to treatment
Launched Canada's first population based lung cancer screening program
We know that one in two people in our province will face cancer in their lifetime and we're igniting progress to break down cancer, piece by piece, in the labs and clinics.
The progress is real.
We are actively working with our donors and communities across B.C. to inspire investment in BC Cancer and our provincial teams of world-leading researchers, oncologists and care providers.
Cancer is relentless. But so are we. We Won't Stop.
View More
Fundraising Honor Roll
Jim and Betty Hesser
$100