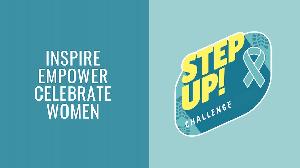 Step Up for Ovarian Cancer
September is Ovarian Cancer Awareness Month! It's when we take on a challenge to support women with low-grade serous ovarian cancer (LGSOC). Anyone can participate. All you need to do is be active in whichever way you choose, fundraise and raise awareness!
LGSOC tends to affect younger women and is difficult to treat, which is why we Step Up in September to show women they're not alone and raise crucial funds for research.
Whether it's a 5km run, 10,000 steps, an epic bike ride or a stroller push - it all counts.
Tips to get started:
Join our fundraising team here and get your friends and family members involved!
Choose an activity - walk, run, cycle (or something else!)
Measure your activity - in time, or steps or distance or destination
Decide if you're going to do it one day, some days or every day in September
Remember - have fun! Thank you. You're amazing!
Funds raised support Cure Our Ovarian Cancer's charity partner the BC Cancer Foundation. 100% of the funds raised through the event will be used for LGSOC research. Research to give people with LGSOC more time to do the things they love in life.
View More
Team Name: Step Up for Ovarian Cancer |
Team Goal: $5,000.00
View More